BOMA/Chicago features two award categories, the TOBY and Gold Circle Awards, which recognize the best of the best in the commercial real estate industry. These awards are presented annually at BOMA/Chicago's TOBY Gold Circle Awards Gala held in January.
The Outstanding Building of the Year (TOBY) award is the most prestigious recognition that building owners and managers can achieve in commercial real estate. This award recognizes quality and excellence in building management.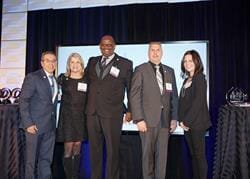 The Gold Circle Awards honor individual excellence within Chicago's commercial real estate community in six categories: Janitorial Professional, Property Management Professional, Emerging Leader, Building Engineer, Security Professional and Affiliate Member.